Soft Jelly Artichoke from Leaves Extract (95%), which is convenient and good for health, meet European standards for export,. The product is packed in paper cartons and plastic bags are easy to carry on board or convenient for export ship. We have many different packaging types, such as glass jar, plastic box and paper box depending on the requirements of customers.
—
HOTLINE : 0941772244 
Email support: atiso.tribenhgan@gmail.com
Item specifics
Condition:
New: A brand-new, unused, unopened, undamaged item (including handmade items). See the seller's listing for full details. See all condition definitions
Brand: Van Anh Atichoke
Formulation: Soft Jelly
Expiration Date: 2 years from production date
Country/Region of Manufacture: Vietnam
Reg. No: 1398/2012/YTLĐ-CNTC
Active Ingredients: Artichoke Extract (100%)
Artichoke extract is a great source of Vitamins A, B, and C, along with key nutrients like fiber, Potassium, Magnesium, Chromium, Calcium, Zinc, and Iron. In addition, the vegetable contains a large amount of phytonutrients and antioxidants which can be beneficial to general health, heart function, and many other physiological processes.
Artichoke extract has been associated with these potential health benefits:
– Cholesterol Reducer
– Digestive Health
– Liver Support
– Nootropic
INGREDIENT
100% Artichoke Leaf Extract
RETURN 
Your satisfaction is our main mission. If you are not completely satisfied with the items you have purchased from VanAnhAtiso.com , please contact us via website/holine/message. 
All of your inquiry will be replied within 24 hours. We will accept returns within 14 days from the date of your  package are delivered for a refund or a replacement. Please note that you are responsible for returning  postage fee. The refund or replacement will be processed right after we received the returned items.
WE STAND BEHIND EVERY SINGLE ITEM WE SELL. SHOP WITH CONFIDENCE!
    SHOULD YOU HAVE ANY INQUIRY, PLEASE FEEL FREE TO CONTACT US
MORE INFORMATION OF BENEFITS:
Liver Health: Artichokes were used as traditional liver tonics for centuries, but the exact mechanism of their impact was never full understood until modern science could properly research this versatile plant. Two antioxidants (again!) found in artichokes, cynarin and silymarin, have been shown to improve the overall health of the liver by reducing the presence of toxins and facilitating their elimination from the liver and the body. Some studies have even shown these antioxidants to actively promote regrowth and repair of damaged liver cells, which is one of the slowest organs in the body to regenerate. It seems that modern medicine finally caught up with what traditional medicine has known for generations!
Blood Pressure: On a related note, artichokes are rich sources of potassium, the essential mineral that has an impact on numerous organ systems throughout the body. Potassium helps to neutralize the effects of excess sodium, which is notorious for increasing blood pressure. Artichokes therefore act as a vasodilator and is particularly useful for those already taking hypertension medicine to prevent the effects of potassium deficiency. Diabetics are also encouraged to eat artichokes to prevent the complications associated with blood pressure and that disease. Finally, a reduction in blood pressure can reduce the chances of heart attacks and coronary heart disease!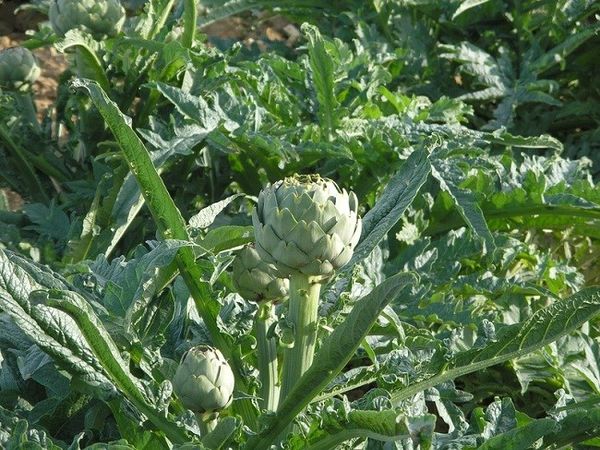 Digestive Issues: Artichokes are a rich source of dietary    fiber, which is one of the most beneficial nutritional staples for improving the health and functionality of your digestive system. Fiber adds bulk to the food you eat, which helps to keep your bowel movements regular and normal, and decreasing the symptoms of constipation, fiber can reduce chances of a variety of stomach and intestinal cancers, as well as bloating, cramps, excess flatulence, and general discomfort in the stomach. Furthermore, if you have problems with loose stool or diarrhea, fiber can absorb excess liquid and form healthy, predictable bowel movements in patients. Fiber also acts as a clean up crew for excess LDL cholesterol, thereby cleaning your arteries and further reducing your chances of heart disease.
Another extra benefit of artichokes in terms of digestion is its impact on the gallbladder. Artichokes soothe inflamed gallbladders and can solve the common problem of a blocked duct in the organ, thereby allowing normal function. Therefore, in a way, artichokes can be said to stimulate the production and secretion of gastric juices, as well as bile, which also aids in smooth digestion.
Hangover Cure: As mentioned earlier, artichokes can be a great salve to the liver, and can reduce any blockage, as well as reduce the levels of toxins in the blood by eliminating them quickly from the body. Therefore, artichokes make for a perfect hangover cure, and some people choose to chew on a few artichoke leaves after a night of heavy drinking!
Birth Defects: As if all of these other health benefits weren't enough, artichokes even help pregnant women have healthy, normally-formed children. The high levels of folic acid found in artichokes can prevent neural tube defects from occurring in newborns. The neural tube closure process in vitro requires a certain amount of folate to occur properly, so folic acid is an essential part of a pregnancy diet.
Brain Function: There are a number of aspects of artichokes that make them beneficial for brain health, including their quality as a vasodilator that allows more oxygen to reach the brain for elevated cognitive function, for phosphorous an essential mineral that is found in artichokes and is also packed into brain cells
Bone Health: Artichokes are one of the best foods on the market for acquiring vitamins and minerals, particularly minerals like magnesium, phosphorous, and manganese. These minerals are essential parts of increasing bone health and density, thereby reducing the chances of conditions like osteoporosis.Metabolic Functions: Magnesium and Manganese are both essential parts of the body's metabolic processes, and they are also found in significant amounts in artichokes. Magnesium is an important part of protein synthesis throughout the body, as well as optimizing the intake of calcium by the body, further strengthening bones. Manganese is slightly more involved than magnesium, and it impacts the metabolic rates of cholesterol, amino acids, and carbohydrates.
Brain Function: There are a number of aspects of artichokes that make them beneficial for brain health, including their quality as a vasodilator that allows more oxygen to reach the brain for elevated cognitive function, for phosphorous an essential mineral that is found in artichokes and is also packed into brain cells
USAGE
Normal use: Put 1/2 teaspoon into 80-100 ml of hot water, drink warm or add ice. Drink 3 times a day before or after meals.
Prepare alcoholic drink: Soak 100 gram into 1 liter alcohol (add sugar or honey).              
 PAYMENT                       
We accept secure payment via PayPal and Credit/Debit cards through PayPal. We are a Verified PayPal member for your trust and protection.
Payment should be made within 7 days.
SHIPPING 
All the items will be dispatched within 1 day after the cleared payment is received  (including Saturdays and Sundays) via Vietnam standard airmail service.
It normally takes 7 to 20 business days for your package to arrive. However, in some rare  cases, you may experience delay due to your customs.
We don't ship to APO/FPO address.
We declare your package as "GIFT" (not commercial items) for your convenience (Normally our customers don't have to pay any taxes upon receipt of the item. However, we cannot guarantee that due  to regulations from different countries).
We ship to Paypal address only.